Personal tools
Microelectronics at ICTP
Hands-on course provides technical skills to developing countries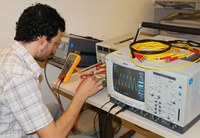 Course participant tests an FPGA board.
ICTP teamed up with CERN and Actel Corporation to provide training on cutting edge technologies and low-cost design methods for microelectronics to physicists, engineers and computer scientists from developing countries.

The training was centred on the use of field programmable gate arrays (FPGAs), a type of programmable logic device that has several billion transistors in a single chip, providing high computational capability and connectivity. Due to their versatility and the fact that they can be reprogrammed, FPGAs can be used to quickly design, implement and test a wide variety of complete electronic systems in fields such as reconfigurable custom computing, real-time systems, high-performance digital signal processing, and scientific instrumentation.

The course offered a broad view of this technology by involving lecturers from industry, academia and research. Through intense laboratory activity the participants acquired key concepts and valuable hand-on experience that they can use to train others in their home countries.

"The training we provided has a relatively short learning curve and an immediate impact," said course director Andres Cicuttin of ICTP's Multidisciplinary Laboratory. He explained that the idea for the course and its main contents came about as a result of ICTP's experience with CERN and INFN working on high-energy physics experiments as well as ICTP's knowledge of developing countries' needs.

As a result of the workshop, ICTP and CERN are discussing the possibility of offering electronics training to scientists from developing countries who are planning to join experiments at the LHC.

The workshop, titled "Advanced Training Course on FPGA Design and VHDL for Hardware Simulation and Synthesis", was held at ICTP from 26 October to 20 November. Visit the course website here .
2009-11-25