Personal tools
Women scientists at Ecology Workshop
For the first time, women outnumber men at workshop
Graciela Canziani and Mercedes Pascual, two of the directors of the ICTP-sponsored Workshop on Theoretical Ecology and Global Change that is being held in Trieste until 13 March, noticed an interesting characteristic about this year's workshop participants: for the first time, the majority of attendees are women.

"When we attended the Course on Mathematical Ecology in 1986, less than 20 of the 140 participants were women. The first Latin American meeting was held in 1989 in Brazil, and about one-third of the participants were women. This year, we have 18 women and 17 men as well as three women lecturers," Professor Canziani said.

Regional meetings have been held regularly in Latin America where, Professor Canziani notes, there are now more women than men in science. The meetings address the theoretical problems involved in conservation biology and natural resource management and attract specialist from diverse fields.

A key outcome of the workshops is the network they create. This year's participants intend to stay in touch afterwards, valuing the multi-disciplinary contacts they have made at the workshop.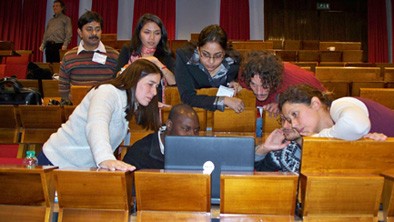 Participants at the Workshop on Theoretical Ecology and Global Change
2009-03-11