Personal tools
A Wireless Africa
Project to improve wireless networking in Africa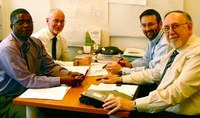 Project steering committee finalizing training activities. From left: Mike Nxele and Robert Shaw of ITU, and Marco Zennaro and Sandro Radicella of ICTP.
The transfer of low-cost, wireless technology know-how to African educational institutions is the purpose of a joint project that is just getting started between ICTP and the International Telecommunications Union's (ITU) Telecommunication Development Bureau.

Titled "Strengthening Training Capacity in Wireless Networking in Africa", the two-year project will transfer specific skills through innovative training schemes.

The goal is to develop networks of expertise, through a 'train-the-trainer' approach, which will allow the rapid spread of knowledge into the wider community, thus enabling the rollout of new networks and new opportunities for local connectivity. The training will utilize wireless training kits developed by ICTP.

"Wireless technology is the most effective way to bridge the digital divide that is still affecting many African countries," said Sandro Radicella, head of ICTP's Aeronomy and Radiopropagation Laboratory and a member of the project's steering committee.

The project will establish wireless technology hubs at selected African educational institutions; the training of trainers on related ICT curricula; the provision of training materials; and the launching of dedicated training opportunities.

The first training phase of the project is set to begin in January 2011 with a two-month-long course at ICTP in Trieste, followed by two-months of additional e-learning courses. A second training phase of the project will take place at two African institutions that will act as regional hubs.
2010-02-04