Personal tools
Award for Former ICTP Director
AAAS honours Sreenivasan's international efforts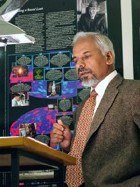 Katepalli R. Sreenivasan
The American Association for the Advancement of Science (AAAS) has awarded its 2009 AAAS International Scientific Cooperation Award to former ICTP Director Katepalli R. Sreenivasan.

Sreenivasan was selected for "his role as a transformational leader of an international research center that promotes cutting-edge science by bringing together the brightest minds from nations within and beyond the developing world," according to the award selection committee.

In particular, Sreenivasan was recognized for his successful efforts in mentoring young scholars throughout the world by creating significant opportunities for their development in their own countries and elsewhere. Sreenivasan served as Abdus Salam Research Professor and director of ICTP until October 2009.

"Katepalli Sreenivasan has played a tremendous role in advancing science and promoting international research cooperation," said AAAS Chief International Officer Vaughan Turekian. "Through his insightful use of resources, for example, he has been instrumental in bringing young scientists from the developing world to international conferences. He has worked tirelessly to support research opportunities and the career advancement of young scientists from many different regions."

Sreenivasan received a commemorative plaque and a $5000 prize during the 176th AAAS Annual Meeting in San Diego, California.
2010-02-24