Personal tools
ICTP Building Dedication
Trieste institutes celebrate joint purchase of MLab building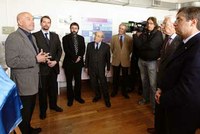 Claudio Tuniz, head of ICTP's MLab, discussing research activities at the 2 March building dedication ceremony.
The building that is home to ICTP's Multidisciplinary Laboratory (MLab) was formally dedicated on 2 March in a ceremony attended by top representatives of Trieste's research and educational institutes, as well as local and regional officials.

The building, which was owned by the Comune di Trieste and originally housed an elementary school, was recently purchased by the University of Trieste, with financial assistance from ICTP, the Fondazione CRTrieste, and the Consorzio per la Fisica di Trieste. Prior to the purchase, the Consorzio had rented the building from the Comune and had ICTP, INFN and SISSA sharing the space. The Consorzio played an important role in negotiations for the purchase.

"The new purchase ensures that the building will remain a facility devoted to science," said Consorzio President GianCarlo Ghirardi in remarks during the ceremony.

ICTP's MLab hosts activities that promote interdisciplinary experiments and applied physics. The Laboratory collaborates with local as well as international research institutes in offering hands-on education for scientists from developing countries. Laboratories based here include:
ICTP-Italian National Institute of Nuclear Physics (INFN) Microprocessor Laboratory
Plasma Focus Laboratory
Imaging Laboratory
Accelerator Mass Spectrometry

For more details about the MLab, please visit its website.
2010-03-03