Personal tools
ICTP Room Dedication
Luigi Stasi remembered for vital role in ICTP's founding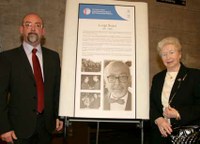 Luigi Stasi's son and widow next to a memorial plaque that will be placed at the entrance to the Luigi Stasi Seminar Room.
ICTP has honoured the memory of Luigi Stasi by dedicating a lecture room to him. Stasi worked closely with ICTP founders Abdus Salam and Paolo Budinich to establish ICTP, as well as other international research institutes, in Trieste.

Stasi's ICTP-related achievements included:

• was secretary of the Local Restricted Committee, which was formed in Trieste to facilitate the establishment of ICTP;
• helped compose the agreement that was eventually signed between ICTP, IAEA and the Italian government;
• oversaw the bidding and other administrative tasks related to the acquisition of land and architectural services for the design of the ICTP building;
• as president of the Istituto Autonomo Case Popolari (IACP), oversaw implementation of the construction of ICTP's Galileo guesthouse.

The Luigi Stasi Seminar Room was officially dedicated at a ceremony on 26 February.



2010-02-26