Personal tools
ICTP to Advise Nigeria
Country taps ICTP's wireless technology expertise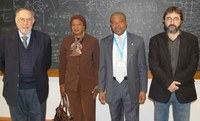 ARPL's Sandro Radicella (far left) with Dr. Ladi Hamalai, Honorable Chukwuemeka N. Ihedioha, and ICTP Director Fernando Quevedo.
ICTP's experience in narrowing the digital divide with wireless technology has attracted the attention of high-level policymakers in Nigeria. ICTP has been invited to present an awareness workshop to be held in May on the relevance of science and technology for members of the country's Parliamentary Science and Technology Committees and others.
As a sign of the importance to which Nigeria holds wireless technology, the country's Chief Whip of the House of Representatives, Honorable Chukwuemeka N. Ihedioha, spoke at ICTP on 10 March during the Workshop and Awareness Conference on Evolution of Wireless Technologies. He was accompanied by Dr. Ladi Hamalai of Nigeria's National Assembly, who is organizing the ICTP Nigerian workshop, which will be held in Abuja.
ICTP's wireless technology activities are coordinated by Sandro Radicella, head of ICTP's Aeronomy and Radiopropagation Laboratory.
2010-03-17