Personal tools
Wireless for Developing Countries
Workshop attendees learn to build and secure wireless networks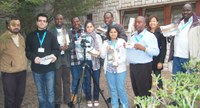 Workshop participants display their homemade antennas, built with help from ICTP lecturer Carlo Fonda (far left).
From building their own antennas to measuring radio signals, participants of ICTP's Workshop and Awareness Conference on Evolution of Wireless Technologies are gaining valuable hands-on experience in building and securing their own wireless networks. They are being trained by telecommunications experts for three weeks in topics ranging from the basics of wireless networking, spectrum management and regulatory issues, and wireless security and network monitoring management. The workshop is targeted to developing countries as a way to help them bridge the digital divide.

For more details about the workshop, visit the website.
2010-02-26